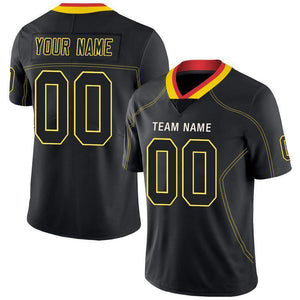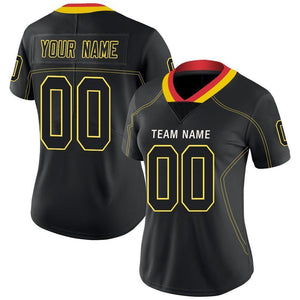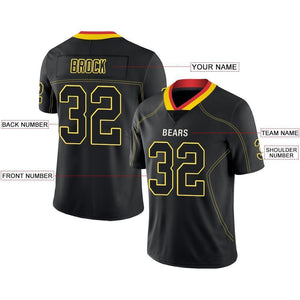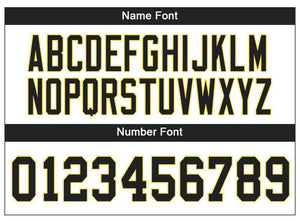 Capture your distinct look when you grab this Custom Football Jersey from our Shop. It features Customized Name and Number to show your uniqueness.
Features:
1. 100% recycled polyester
2. Jersey with printed name and numbers, or pay a little extra, you can have it with stitched tackle twill name & number
3. Tailored fit designed for movement
4. No-tag neck label offers clean comfort
5. Strategic ventilation for breathability
6. Machine wash, Do Not Tumble Dry
7. Solid-body construction
8. Screen printed sleeve stripes
9. Imported
10. Non-alcoholic Available For Wiping or Washing
HERE'S WHAT SOME OF OUR BUYERS HAVE TO SAY

Amazing birthday gift fits well and details and specifics were on point.
Great together, the material of the jersey is very comfortable, the embroidery print is very good. Best product for the price! I recommend this merchant and thank his team listening to the customer.
JAMES / Facebook

Fast shipping and great quality. My boyfriend love it.
The seller is well done, made an inscription, got quickly, ordered 26 size for a child of 11 years, shorts are excellent, t-shirt for growth, has not washed yet, but it looks good! I really like the material of the clothes, It looks very soft.
DANIEL / Facebook

Good quality, elastic and breathable fabric, I am very happy
Same to come on line, fairly good qaulity and fine print. Very patient and attentive you customized needs. Had to go back n forth to get you exactly what you want. This guy was good. I like the design style of collar.
PATRICK / Facebook

Absolutely love my custom jersey! Can't wait for Friday Night Lights this week!
These jerseys hand crafted inside and out for lasting, premium comfort.Mesh side panels for extra breathability,No-tag neck label for clean comfort.Full Sublimation Print with logo, name and number .
LISA / Facebook

Very smooth transaction and the Jersey came out awesome!
Fabric is 100% Polyester, Conducts sweat and heat away from the body, Ventilated mesh panel inserts.Breathable Sublimation Football jersey, Incredibly Lightweight and Breathable Fabric, Lightweight, Moisture-absorbing, You can customize any logo of your team, Team name and Number. Suitable for individuals and teams to buy.
REBECCA / Facebook

Arrived exactly as ordered and in a timely manner. Highly recommend.
I think these jerseys are 100% Polyester, Tailored fit designed for movement and very clean comfort. There are many choices for the numbers and names printed on the jersey. I really like the custom jersey I bought, and I also recommend it to my friends.
HEATHER / Twitter

I am very happy with my purchase. My order looks exactly as expected, it arrived on time, and the size chart was very accurate.
Excellent. Very good advice with size. And meet the requirements of logos names and numbers. Very nice. I'm 1.68 weight 72. Exact size. Printing is excellent, the quality of the material is at a height!
ALBERT / Twitter

I'm over the moon excited for this jersey!! It's exactly what I was looking for to wear on the morning of my big day
Reasonable quality, Price, quality comparatively good. Printing of Numbers and Letters very beautiful. The main thing is that the Printing quality is very good, Customized Printing of the logo very being and very beautiful.
KEITH / Facebook

I absolutely love my jersey. It shipped so quickly and is wonderful quality!
I was so excited when I this came in the mail I tried it on immediately! I am so in love with my custom jersey. Went above and beyond excellent customer service and amazing product!!! My name and my number are very beautiful, and my favorite embroidery.
JERRY / Facebook

Awesome item and quick shipping as always with this company. Love my jersey and the attention it attracts.
I ordered a total of 10 of these jerseys for a group of High school Mom's. They are great quality and the sparkle is really nice. The shop had our order together extremely fast despite the fact that they were evacuated due to an emergency hurricane! Dedication, promptness and quality! Can't beat that! Will refer many to them.
ROGER / Facebook

Cute jerseys. Will work for what I wanted them for.
Order arrived very quickly and accurate. The seller is good, Very successful purchase. The seller can order the inscription and the athlete's number. Material: polyester 100% The seller writes, the size corresponds to take your And so everything is super. The seller is well done, i recommend.
Barnes / Facebook

Cool custom Jersey, decent quality for the price.
The Mesh quality was outstanding and the font is very NFL looking! I loved it! Nice texture, perfect for a gift or for self! I had a question, and called them directly and not only were they very polite but very helpful and customer satisfaction oriented! ps: Also the delivery turnaround time is much faster then described. Fits as expected.
Baughns / Facebook

Came out exactly as I asked. Love them!! thanks so much!
Polyester Tricot mesh w/100% Polyester Dazzle Fabric Yoke and Sleeves and 1x1 rib-knit v-neck Collar are very breathable and comfortable to wear. The printed name and number are also very beautiful and of great quality.
Calderon / Facebook

Great Quality, received quickly, looks good. Will definitely purchase again.
Very satisfied, try on and add photos, service is excellent, quality too! The goods were sent very quickly, packed all orders in one parcel, packed very qualitatively and neatly, there is no smell. Communication with the seller is instant, responsiv.
George / Facebook

The Jersey turned out Awesome! Shipping was really fast. Highly recommend!
I'm always hesitant to buy thing online since there are so many scammers. But this jersey is great though. Fine materials, fits just fine, looks exactly like it does on the website. Got here the same it was promised and is very high Quality. Especially the craftsmanship, the name of the embroidery, and it is very comfortable and breathable on the body.
Stephen / Facebook

These jerseys are perfect! My boys will be so excited to get them for Christmas.
When I got the jersey, I obviously felt that the material was very comfortable, the shoulder and neckline were reasonably designed, and I felt very breathable after wearing the jersey. Moreover, my name and my favorite number were perfectly displayed on the jersey, and I chose the embroidery way, which was a perfect shopping experience.
Walter / Facebook